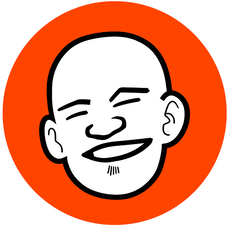 Hi!
​My name is Ryan Stiner.
I'm an illustrator, painter, designer, and general thing-maker living in southeast Michigan
with my wife, 2 kids, and a cat.
​Here I am on Instagram, Facebook, Threads, and LinkedIn
I've been drawing since I can remember and have been illustrating professionally
for almost 20 years. I've created logos, social media assets, packaging, catalog covers, food illustrations, ads, portraits, sculptures, landing pages, billboards, bus wraps, apparel, fine art ... the list really goes on and on ... for clients big, small, and everywhere in between.
I'm confident in my ability to find out what you need and get it to you quickly.
​
If you are in need of something creative and would like to see what I can do for you, HMU at
ryan@ryanstinerartthings.com
Thank you!
---
TESTIMONIALS

"Ryan has become my go-to artist. I first contacted him because I wanted a portrait of my family and knew that he could make it awesome and quintessentially Ann Arbor ... He was a no brainer choice when I needed a new logo for my business and even was patient enough to pause work while I changed my name mid-process. Our most recent project by Ryan was a poster design for our annual crawfish boil and holy crap does this guy know how to draw food. Ryan is the guy whom you can come to with a vague and rough idea then leave that in his capable hands and know that you'll be given a truly unique and artistic product. His work is a gift!"

Emily, from Ann Arbor


"I couldn't be happier with your creations. They feel so very "us" while, at the same time, exuding the qualities of your artistic style that I love so much (and for which I pursued you as our partner in this project). I've attached photos of your artwork composed into the beautiful wraps that now don our trucks. I've been hearing great responses in the community as they've begun to cruise through town!
It's also worth mentioning that Traci raved about how wonderful you were to work with — and I so appreciate that.
Thank you again for your generosity in taking on this project. I truly believe that our newly designed trucks, aka our moving billboards, will help us gain greater attention in our community, therefore increasing our ability to fight hunger!
I hope we'll get to work together again in the future."

Julia, in CO


"When our local event needed a new design, I knew exactly who I wanted to design it! I was familiar with Ryan's work from his famous Zingerman's pieces and loved how he made food items come to life. We sat down to discuss my needs and objectives and within a day, he had a concept drawing complete! The final logo artwork can now be seen across social media, various internet pages, and locally at our host facility. It has given a fun and edgy identity to the event that we can use for many years to come! Thank you, Ryan Stiner, for helping the 2018 Athens Eggfest create a first-class image!"

Darlene, from TX


"Ryan is a dream to work with – responsive, professional, easy-going, and fast. He did an amazing job of capturing the vision of our artwork request and brought it to life better than we could have envisioned. I highly recommend Ryan, he's wonderful and a delight to work with."

​Joan, from Rancho Meladuco in CA